BY Ganesh Tayi, CEO of Never Lose The Deal. Based on my experience of winning many deals, saving some deals at the last minute, and losing some deals that should not have been lost, I developed a simple, yet effective A.A.A principle – Align, Analyze & Ask that every senior sales executive who negotiates large sales contracts must master to Never Lose The Deal. Every high-dollar sales opportunity goes through various stages both in your organization and your customer's organization. They all start with the initial proposal followed by many rounds of negotiations and obtaining approval before closing the deal. As a sales executive, you tend to rely heavily on your skill and ability to negotiate with asynchronous support provided by other organizations. Most sales executives get comfortable with this approach as they feel it puts them in control of the situation. However, this is a big fallacy and trap that you can fall into and you could risk losing the deal. Following the A.A.A principle – Align, Analyze & Ask at every stage of the sales deal negotiation, will ensure that you never lose the deal.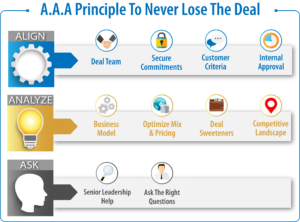 Align
Alignment of external and internal teams is critical for closing deals. It takes time and effort to coordinate various teams, but once you get this right you will zip through the negotiations. You must form and engage your deal team with key stakeholders throughout the deal negotiation process and ensure your internal teams can deliver on your commitments. Understand your customer's decision-making criteria and their approval process and engage all your customer stakeholders. Securing internal approval of your deal before you send the first proposal will give you the power to confidently negotiate and close the deal with your customer.
Analyze
As a sales executive, you are most likely tempted to send the first proposal fast, out of fear that your competitor might have an edge. In reality, deals are lost not because of who submitted first or fast but based on the quality of the proposal and the commitment your entire organization has for the deal. So, you must thoroughly analyze the deal.
Establish the desired outcome, create the business model for your deal with multiple scenarios and assess the competitive landscape prior to sending your proposal. Optimize pricing and mix of products and consider all possible deal sweeteners to close the deal.
Ask
Most sales executives are apprehensive to ask for help from their management. You might consider it a weakness to escalate and get your management involved in negotiating the deal. However, engaging your leadership team in negotiations takes the pressure off you and helps you tackle roadblocks quickly. Do not hesitate to engage your senior leadership team throughout the deal negotiations and always ask for help as needed. Asking your customers the right questions at the right time is crucial to build trust, engage them and briskly close the deal. When you ask your customers thoughtful, open-ended questions, you will discover what is going on in your customer's business and understand key stakeholders' needs, so you can propose solutions that address their specific situations. Build a list of questions you must ask customers for your specific situation and weave them into your dialogue throughout the negotiations.   Following the A.A.A principle – Align, Analyze & Ask – and implementing the underlying strategies will ensure you are proactive throughout the negotiations and progress the deal to closure with confidence versus just reacting to developments and constantly fighting battles internally and externally to save the deal. We have had phenomenal success in implementing these strategies with both small and large organizations for deals ranging from 6 to 9 figures. A fast-growing wireless infrastructure company recently implemented some of these strategies and they were able to close deals that are 2X their typical deal value within 3 months. These strategies have now become part of their organization's DNA and so they are now confidently pursuing even bigger opportunities. Want to Learn More About the A.A.A Principle? Get a free copy of our ebook now.