No, We Don't Use Band-aid Solutions
Rather, we take a critical look at why your challenges exist, using a proven 4-step approach, and then we recommend relevant solutions that bring long-term impact.
OUR 4-STEP APPROACH is a simple, repeatable but highly effective set of tactics that we use to help our clients close lucrative deals in complex selling situations, extend their market share, and slash things that waste time, profits, and sales efforts.
When firms struggle to meet up with sales quota, the next answer is more sales activity. But that's like pumping more water into a leaky pipe than plugging the leaks.
So while Sales might start getting more top of funnel activity – more engagement with prospects, more responses to proposals and RFP, more visits and conversations – this doesn't mean everything's great.
What often happens is that the sales pipeline is now full of junk leads that should not have entered in the first place.
What we do when working with organizations is to get the basics right. First, we identify where the leaks are in the pipeline, fix the holes, then add more leads, super-qualify them against stringent criteria and then keep repeating this approach until win-rates approach the best-in-class.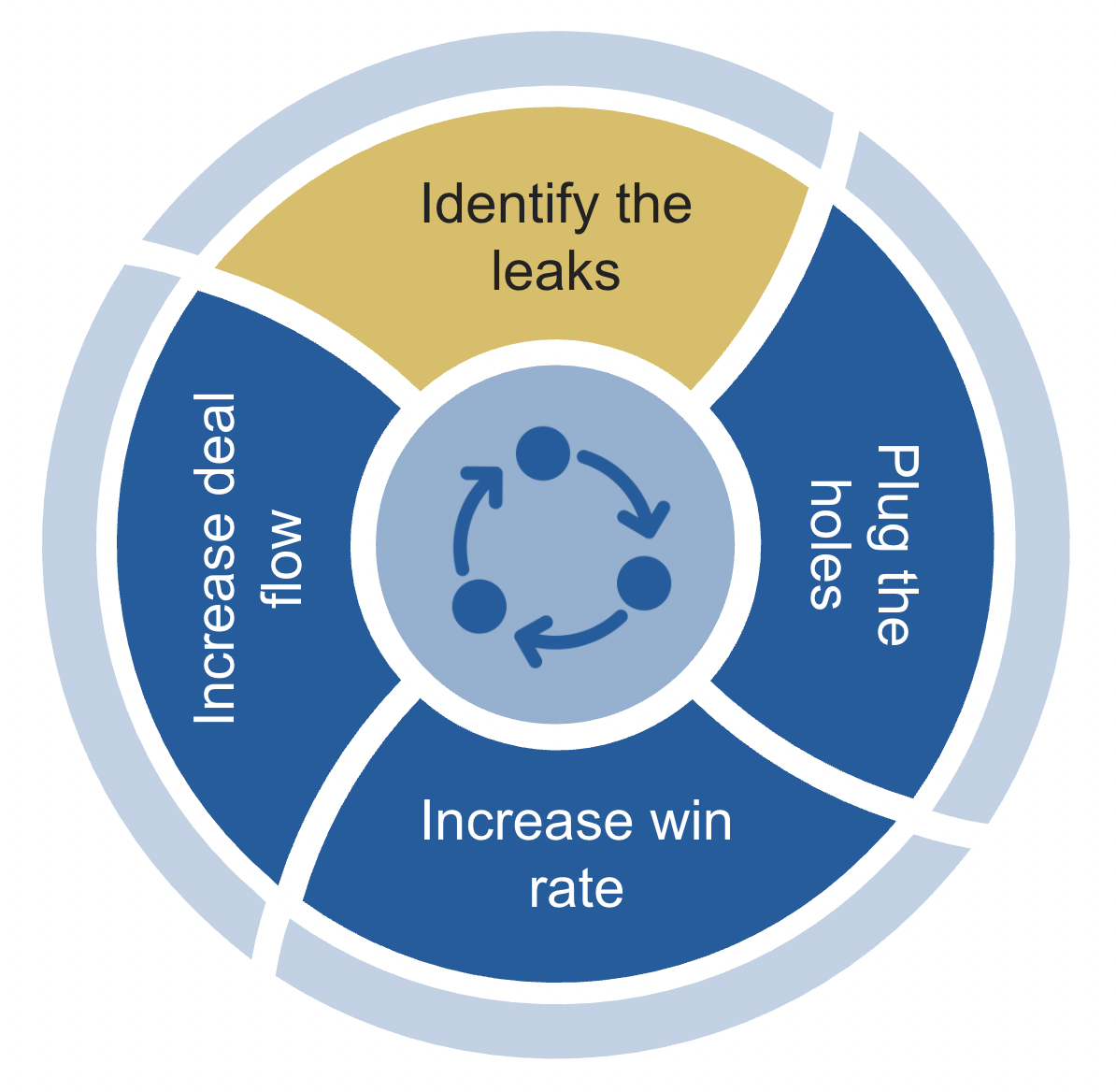 Step One –

Identify the leaks

: We look for the causes of your sales problems by analyzing your sales pipeline for suspects like poor sales processes, unwise interference from senior executives, poor tools, and market factors.
Step Two Plug the holes: Once we spot what's holding you back, we formulate and prioritize strategies to solve the issues from their roots.
Step Three Increase win rate:

When the root problems are solved, we then bring deep expertise and experience to help you improve the win rate.

Step Four Increase deal flow: Finally, we leverage the momentum gained at the last step to increase your deal flow.
PROOF THAT OUR APPROACH WORKS
Ganesh brings a unique blend of preparation, persistence, and flexibility to his negotiating style. He knows all the angles, all the players, and all the choices the other side might make. He is unafraid to push forward in spite of obstacles but also brings an unusual ability to answer obstacles with flexibility. Getting most of what you want now, with a path to getting more later turns out to be an excellent strategy.
Vanessa Wittman
CFO at Dropbox
I have known Ganesh Tayi for more than 12 years and have seen him close complex deals worth billions of dollars. Ganesh has an uncanny ability to develop creative proposals that meet customer needs and exceed organization expectations.
Ganesh is very adept at analyzing business models, assessing the competitive landscape, optimizing product mix & pricing, and developing innovative incentive programs. He works effectively with internal teams and has earned a reputation amongst his customers for having impeccable integrity.
For advice on closing multi-million dollar deals, I would look no further than Ganesh Tayi – his knowledge and experience are invaluable in closing all sales contracts.
Sheetal Shah
Chief Operations Officer at VeriFone
Ganesh closed several multi-million dollar sales deals under challenging circumstances. His breadth and depth of experience in negotiating sales contracts of a wide range of complexity and scale are tough to match.
Ganesh takes a strategic and analytical approach with every deal to negotiate a win-win outcome for all parties involved. The cornerstones of Ganesh's success are his aptitude to effectively lead globally dispersed cross-functional deal teams, seamlessly collaborate across all levels of the customer's organization, secure commitments and sell the deal internally to key stakeholders.
I highly recommend Ganesh for advice on closing multi-million dollar deals as he is very skilled and knowledgeable in consistently closing large sales contracts.
Rudinei Kalil
VP & GM at Motorola
More About Our Unique 4-Step  Approach…
The 4-step sales approach was formulated by Ganesh Tayi, CEO of Never Lose The Deal, who has helped both Fortune 500 and INC 5000 companies secure high-dollar deals.
SO DON'T BE FOOLED BY THE SIMPLICITY OF OUR 4-STEP WINNING APPROACH.
IT'S EXACTLY BECAUSE OUR APPROACH IS SIMPLE THAT IT WORKS SO WELL.
Here's a word from Ganesh…
"I have personally worked on deals on all spectrum of complexity, to one of my largest being worth over $2.5 billion. Through all of those years and lessons, I have developed a passion to give back to the business world the insights I have learned and the issues I have identified that must be overcome to ensure you never lose a deal again.
The critical strategies I provide are based on my own experience of negotiating deals, and from years of studying sales executives at the top of their game."

Never Lose The Deal
We are a B2B sales consulting firm that helps fast-growing tech companies achieve their revenue goals, extend market share and improve their competitive advantage by optimizing sales processes. We help plug the holes in your sales pipeline to close more deals by taking a scientific approach leveraging operational, employee, and customer data.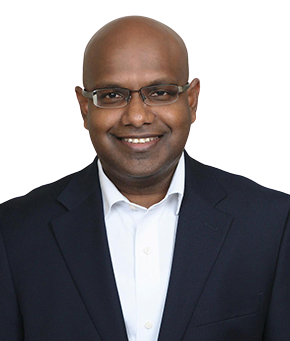 Ganesh Tayi
Author, Speaker and CEO of Never Lose The Deal
Not many sales experts start off as engineers. But Ganesh did.
Shortly after finishing his MBA, Ganesh secured a senior managerial position where he started negotiating a deal with a large client on his first day at work. He quickly fell in love with the complex processes surrounding high-pressure deal negotiations, thanks to his technical background, and hasn't looked back since.
Ganesh has helped close over $12 billion deals with Fortune 500 giants like Sprint, Nextel, AT&T, and UPS. As VP of one of the largest and most successful divisions at  Motorola, Ganesh led the global efforts in Strategy, Operations, and Sales. He helped them achieve huge market share gains in the same segment and negotiated multi-year strategic partnerships resulting in over $1 billion in sales.
As CEO of Never Lose the Deal, Ganesh helps ambitious tech companies turn around low sales and low win rates, and create consistent improvements for high-growth. He's advised companies on the INC 5000 list and shares his insights through coaching, consulting, and workshops. He also speaks with CEOs and sales teams across America both virtually and in person.
All his work is dedicated to helping tech companies with innovative and transformational products make their mark on the world. And that's why he wrote the ultimate guide on deal negotiation, Never Lose The Deal, a powerful book that reveals why senior executives lose mouthwatering deals and the action steps to become better negotiators.
Are you tired of losing high-dollar sales opportunities?
Then get a fresh perspective on how to successfully close mouthwatering deals in today's complex B2B landscape.